Leonardo Hotel is located next to Krumlov Square in two 16th century burgher houses. In the interior, you can find, apart from antique furniture, signs of several architectural styles, from the original Renaissance beamed ceilings to the preserved Baroque staircase.
A central reception you will find in the Hotel Krčínův dům.
In the neighbouring building, visit the renowned Jakub Restaurant, which offers modern international cuisine, based on fresh local ingredients. On the outdoor terrace you can also enjoy wine from the wide menu of the wine shop.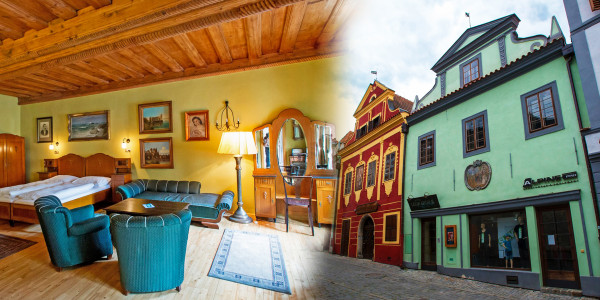 Quiet location in the UNESCO zone
Soukenická 33
Český Krumlov
381 01
square 50 m
castle 400 m
car park 600 m
Contacts and Arriva
Reception: 8am – 8pm
Check-in: 3pm - 8pm
Check-out: 8am - 11am
Navigate
Hotel Leonardo lies in the pedestrian area which you may enter with a vehicle only with a temporary pedestrian area entry permit. A temporary vehicle entry can be purchased for 100 CZK at hotel reception. Parking is forbidden throughout the town. Guests may stop in front of the hotel only for such a period time after that, they are obliged to park at the parking lots P1, P2 or P3. The nearest parking is P3. A parking card can be bought at hotel reception. The entrance to pedestrian zone is allowed from 3:00 pm until 10:30 am.
The map is blocked for privacy reasons. To view it, please agree to the use of cookies for analytics, personalization and marketing purposes.

Comfortable beds, crisp linen and great showers all provided at a very competitive price. Thank you for making our stay so great.

Lyn C., Melbourne, TripAdvisor
The suite at Hotel Leonardo was huge, and very comfortable. The hotel has a cosy, boutique feel, and it's conveniently located near the town centre (about a 10min walk from the coach terminals). The staff were friendly, and the included breakfast was high-quality and tasty. I would definitely stay here again.

Obara S., Sydney, TripAdvisor
When we got to our rooms, we were thrilled, for the rooms were simply spectacular. Cozy, and comfortable, and spacious. The hotel itself had wonderful decorations and a layout that felt like you weren't walking through a hotel, but a lovely chateau. Wooden floors and ceiling beams meet brick walls and warm colors. It was intricate and intimate all at the same time. It was a little slice of heaven out of a bad situation that didn't even break the broke college student's bank!

Olivia Y., Denver, TripAdvisor
Great hotel! Luxury designed room. Good wi-fi. Located 50m from the old town square. Everything was absolutely great!

Орен К., Israel, TripAdvisor
Beautifully decorated room just outside of the main square and in walking distance from all the sightseeing there is...helpful receptionist, tasty breakfast. Not one negative thing I could say about this hotel. Highly recommended.

Seth G., TripAdvisor
We really liked this place - a quiet and characterful old building, with a very pleasant and helpful receptionist, and close to the town square and the castle. All rooms are different, with vaguely medieval-style stairwell, beautifully worn-in stairs and exposed beams everywhere.

hardly_avo, Oxford, TripAdvisor
Hotel Leonardo was great for us. The room was gorgeous, decorated with wood, comfy beds, big bathroom, nice tub, lots of room and all in the center of town. The price was better than most places. You are in the center of town so it's easy to walk to restaurants, coffee, and sights. This is a good place, so you'll be fine staying here.

Todd, TripAdvisor
What a great hotel, location and staff. Old world charm and elegance in the center of town. Historic and quaint. The rooms are huge. We were very happy with our romantic get away weekend. The breakfast was nice as well.

Philip, TripAdvisor
Excellent location. Easy walk to everything. Room was much larger than expected and a lot of character.

Leona, Booking.com
Hotel services which will fully meet your expectations
Guaranteed best possible room in the given cathegory.
Free luggage storage on prior arrival or later departure.
Free possibility of earlier accommodation (according to actual occupancy on the day of arrival).
Nice and helpful staff at your service.
Breakfast is included in the accommodation price from 8am to 10am.
Reception open from 8am to 8pm.
We accept credit cards.
Animals are welcome (for a fee).
Providing addition services and concierge service.
Book via this site and save
Lowest Price Guarantee
for last minute accommodation

BONUS

A little gift
in the room
Benefits also apply to reservations by phone and e-mail

Rooms
19 double rooms a 1 single room

4 above-standard apartments
1 deluxe apartment
6 twin rooms

Jakub Restaurant in the neighbouring building
Virtual visit Leonardo I
Virtual visit Leonardo I
The virtual tour is blocked for privacy reasons. To view it, please agree to the use of cookies for analytics, personalization and marketing purposes.

Virtual visit Leonardo II
Virtual visit Leonardo II
The virtual tour is blocked for privacy reasons. To view it, please agree to the use of cookies for analytics, personalization and marketing purposes.

In each room
WC and shower or bath tub
satellite TV
fridge
non-smoking
Wi-fi internet
Hairdryer
Safe
Telephone
Other accommodation in Český Krumlov